Vitalizing Vitamin B & C Serum 12%
Out of stock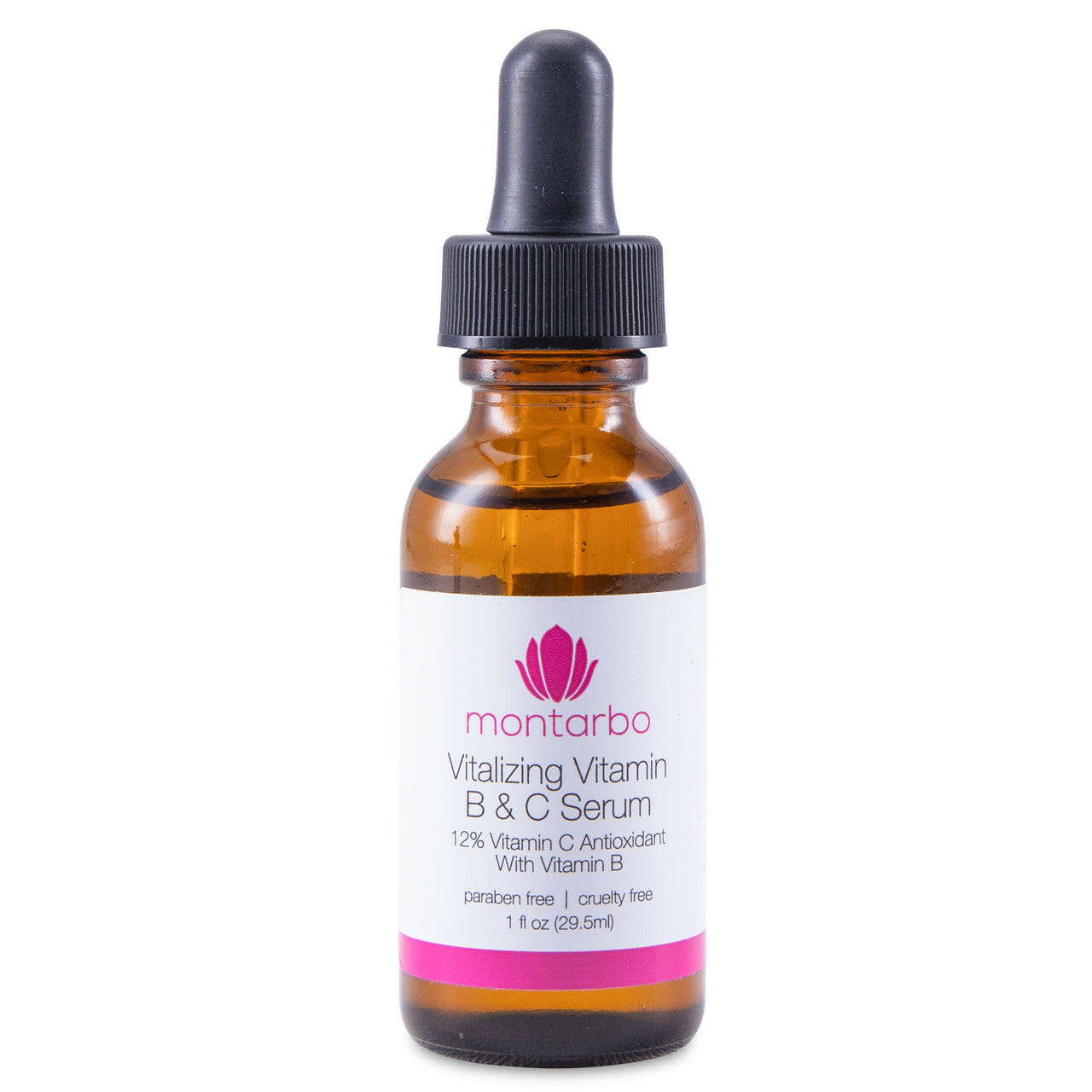 Vitalizing Vitamin B & C Serum 12%
Out of stock
Are you sick and tired of your skin constantly feeling dull and dehydrated? Girl, do I have the solution for you. Our vitalizing Vitamin B & C serum is my holy grail when I'm craving a vibrant, youthful-looking complexion. This serum works to brighten an uneven skin tone, treat pigmentation concerns, and reduce acne.
Our NEW Vitalizing Vitamin B & C serum offers advanced skin brightening and antioxidant protection, feeding your skin with the hydration and nourishment that it craves. It is formulated with active and stable amounts of 12% Ascorbic Acid, Vitamin B3 and Vitamin B5.
The concentration of these products together will intensely moisturize your skin, minimize oil production, improve dullness, and shed off that pigmentation you've been trying to get rid of for years now. This product also helps to strengthen the skin's elasticity against UV rays and boost collagen production, resulting in firm, plump, and ageless skin.
This product is designed for all skin types. Grab our vitalizing Vitamin B & C serum today and watch your skincare worries literally fade away. Say bye-bye to pigmentation and lifeless skin, and hello to your gorgeous new glow!
Note: May be used while pregnant or breastfeeding as a safer alternative to normal skin bleaching agents. Always check with your doctor first.
30 Satisfaction Guarantee
We want you to love your Montarbo Skincare purchase, so if you are not totally satisfied, please send an email to info@codymontarboskincare.com within 30 days of your purchase, and we will provide a return authorization and mailing information. Simply return the unused portion, and we will be happy to remit your account for the full amount of your purchase, minus shipping.

Free shipping
In stock items will be ready to ship within 2 business days.

Standard shipping will be fulfilled with UPSP Priority shipping.
Local Same Day Pick Up
We offer local same day pick up on products in the San Diego area. Our spa is located in the North Park area of San Diego.
ENJOY THE BENEFITS
Brightens uneven skin and existing discoloration, leaving your skin more radiant and giving you the confidence to wear minimal makeup
Nourishes skin cells with a powerhouse of concentrated antioxidant protection, helping to minimize and prevent future sun-damage, aging, and discoloration
Strengthen the skin's resilience to UV damage and deeply moisturizes dehydrated skin below the surface
Tightens the skin, stimulating collagen production, making your skin feel more plump and firm over time
Minimizes pores and redness with Vitamin B, giving your complexion a glass-like appearance
Hydrates thirsty skin, so it appears more youthful-looking and healthy
HOW TO USE
Use AM and PM, applying the serum as the first step in your regimen on clean skin. Place 6-10 drops in the palm of the hand. Massage into face in a circular motion for 30 seconds or more. Apply more, if needed, to stubborn areas of concern. For best results, allow the serum to penetrate into the skin for 3-5 minutes if possible before applying the next product. Serum may be mixed with Retinol or even Retin- A for more brightening and tightening effects.

WHAT TO EXPECT
Mild exfoliation, redness or dryness may occur at first as the skin becomes brighter, tighter and more hydrated with regular use. Know that a slight heat or tingling sensation may occur, which subsides after a few minutes.

Frequently Asked Questions
Ideal for those who want a daily dose of high-quality antioxidant protection and pigmentation brightening.