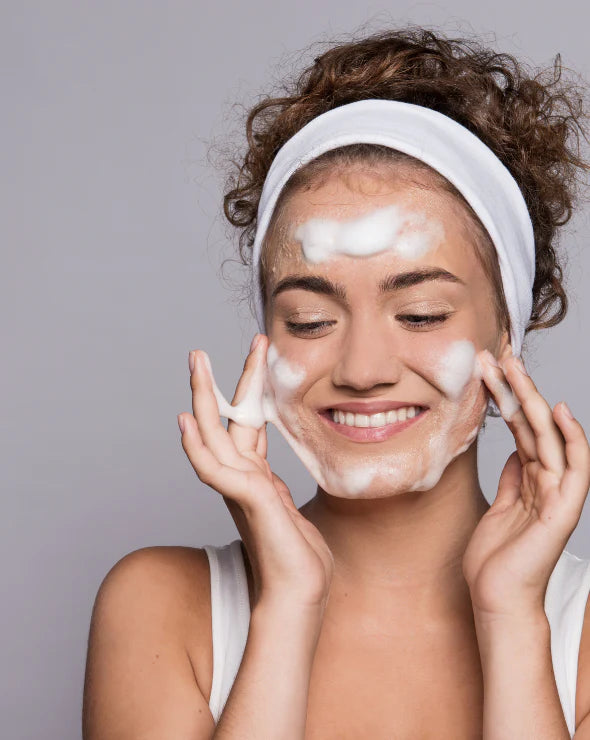 Did you know that the most basic, overlooked step of a skincare routine is cleansing?
It sure is, and it's the most important step to achieving your skincare goals.
Our Montarbo Method includes six layers of care that effectively work together to transform the skin.
Thoroughly cleansing the skin is the first step of the Montarbo Method. Properly cleansing your face preps your skin for products to follow, allowing them to work more effectively. This is what removes excess oil, buildup, dirt, congestion, makeup, and bacteria that has accumulated on your skin throughout the day.
My first advanced skincare tip is teaching you how to correctly cleanse your face.
You want to start applying your cleanser to dry skin. 
It is such a simple tip, but I promise you will see a dramatic difference in your skin when you start doing this.
Work the cleanser into your skin focusing on areas of concern, then slowly add small amounts of water to create a lathering foam.
Using too much water can dilute the product, making it less effective. By using your cleanser on dry skin, you are not only saving product, but money too girl! Regardless of the cleanser, most can be applied to dry skin.
Our Gentle Glow Cream Cleanser below is a professional grade cleanser guaranteed to cut thru full coverage makeup without stripping the skin. It brightens, hydrates and effortlessly removes thick makeup quickly.  
If you are looking for a cleanser that minimizes oil production, blemishes, breakouts, and an uneven skin tone, check out our Gentle Glow Cream Cleanser below.  You'll be blown away by the gorgeous glow you can achieve with this product.  
Give this advanced skincare tip a try and experience the results for yourself. You'll begin to notice that your active ingredients are working better than ever!
We'd love to hear from you, comment below telling us how this tip worked out for you.
If you were a fan of this tip, there are plenty more to come. I can't wait to help you achieve your skincare goals with more guidance.
---