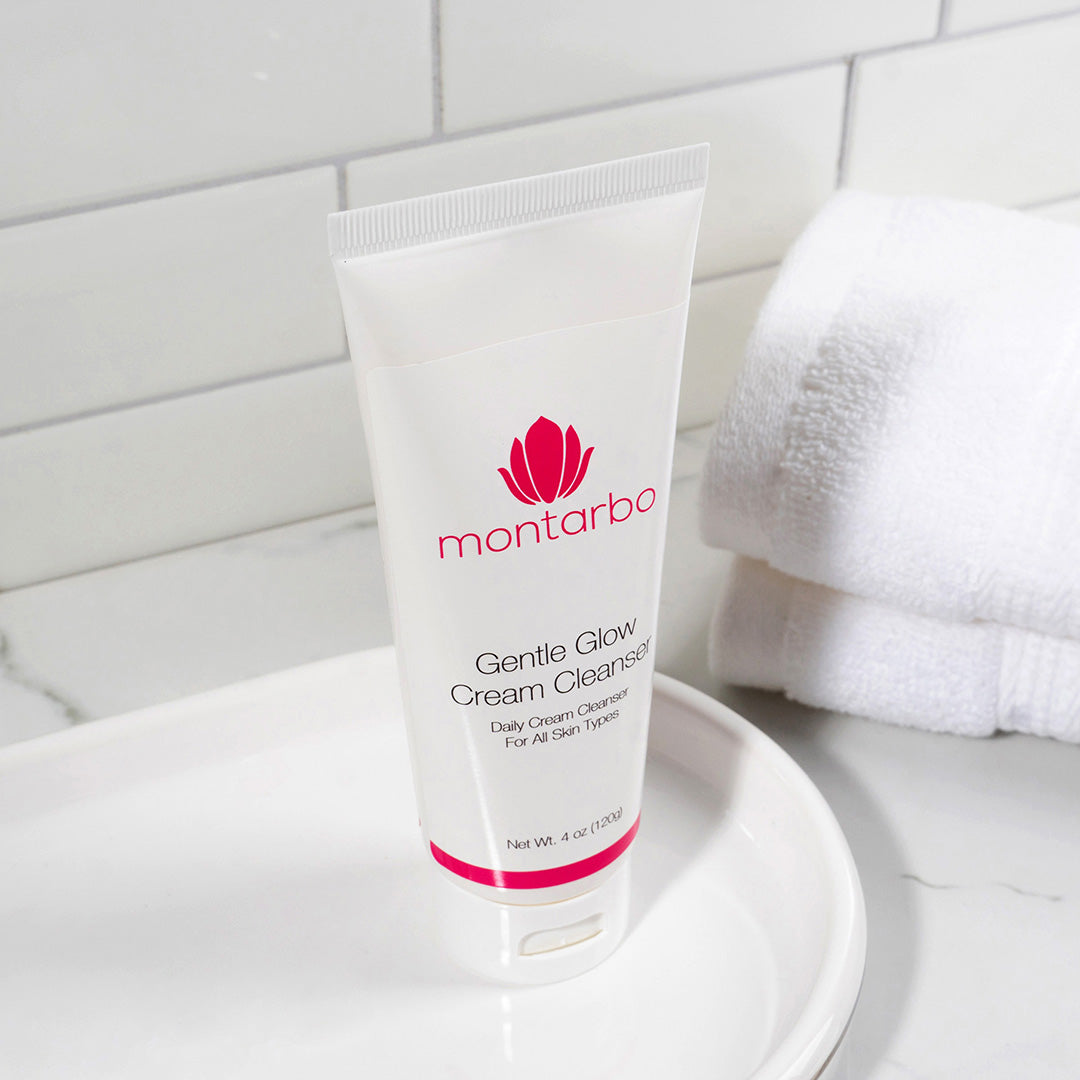 Have you been dying to find a ride-or-die cleanser that leaves your skin feeling squeaky clean and hydrated? Our Gentle Glow Cream Cleanser is the perfect cleanser for all skin types.
It is highly effective at targeting any kind of stubborn skin concern you might be struggling with, including pigmentation, acne, and melasma. It can be used every day, twice a day to achieve maximum benefits.
(Click the video below to watch how we recommend using our Gentle Glow Cream Cleanser, and feel free to read more info about the product below)
This creamy formula helps to hydrate, plump, brighten, and gently exfoliate your skin without stripping your moisture barrier or drying it out. It's calming, yet mighty as it can cut through sunscreen and full coverage makeup, making it easy and efficient to get a deep clean. If you are looking for a cleanser that minimizes oil production, blemishes, breakouts, and an uneven skin tone, get your hands on this today. You'll be blown away by the gorgeous glow you can achieve with this product.
Our Gentle Glow Cream Cleanser is filled with a plethora of antioxidants and nutrients that help to improve skin tone and texture. The key ingredients in this cleanser along with their benefits are listed below. 
Glycerin:

A potent humectant that hydrates and protects your skin barrier 

Malic Acid:

A gentle exfoliant ideal for sensitive skin

Camellia Sinensis (Green Tea) Leaf Extract:

An antioxidant that minimizes redness and strengthens skin

Glycyrrhiza Glabra (Licorice) Root Extract:

An anti-inflammatory that aids in brightening and soothing skin

Sodium Ascorbyl Phosphate: 

A form of Vitamin C that plumps and evens skin tone and texture

Lactic Acid:

A gentle exfoliant that brightens and smoothes skin

Alpha-Arbutin:

A skin-brightening compound that effectively targets PIH and PIE

Niacinamide:

A form of Vitamin B3 that reduces redness, inflammation, and pigmentation concerns

Panthenol:

A form of Vitamin B5 that deeply moisturizes skin
A little goes a long way with this powerful cleanser, so use accordingly.
This product works best when you apply a pea-sized amount on dry skin. Work the product into the skin focusing on areas of concern, and slowly add water to create a lathering foam. 
Cleanse for at least 60 seconds and rinse with water when done.
Toss all your concerns about if this product will make your skin break out, or if it will leave your skin thirsty for some hydration right out the door.
This product is formulated with the right balance of antioxidants, nutrients, and ingredients that will leave you and your skin feeling happy. Grab our Gentle Glow Cream Cleanser today and watch it become your new favorite skincare staple.
---